It's Monday. I know, I know. You don't want to hear it. But I have some good news. It's Blog Ring of Power time! Today we have a buddy of mine that I've been stalking on FaceBook for some time. Great posts and awesome covers. So let me do a little fangirl squee and we will get to it!
T.E. Ridener resides in the small community of Gray, Kentucky with her equally eccentric yet amazingly interesting family. Miss Ridener has written a handful of novels as well as various short stories during her career as a writer. When she is not writing, she enjoys listening to nearly every genre of music, watching movies, and spending time with her niece and nephew. Her greatest accomplishment to date has been The Blood Betrayal Series, with characters she dreamed up while she was still a teenager. She believes that the Blood Betrayal Series will go far one day, despite the overrating of vampires in the past few years. According to her, vampires will -never- go out of style even if their fashion choices do!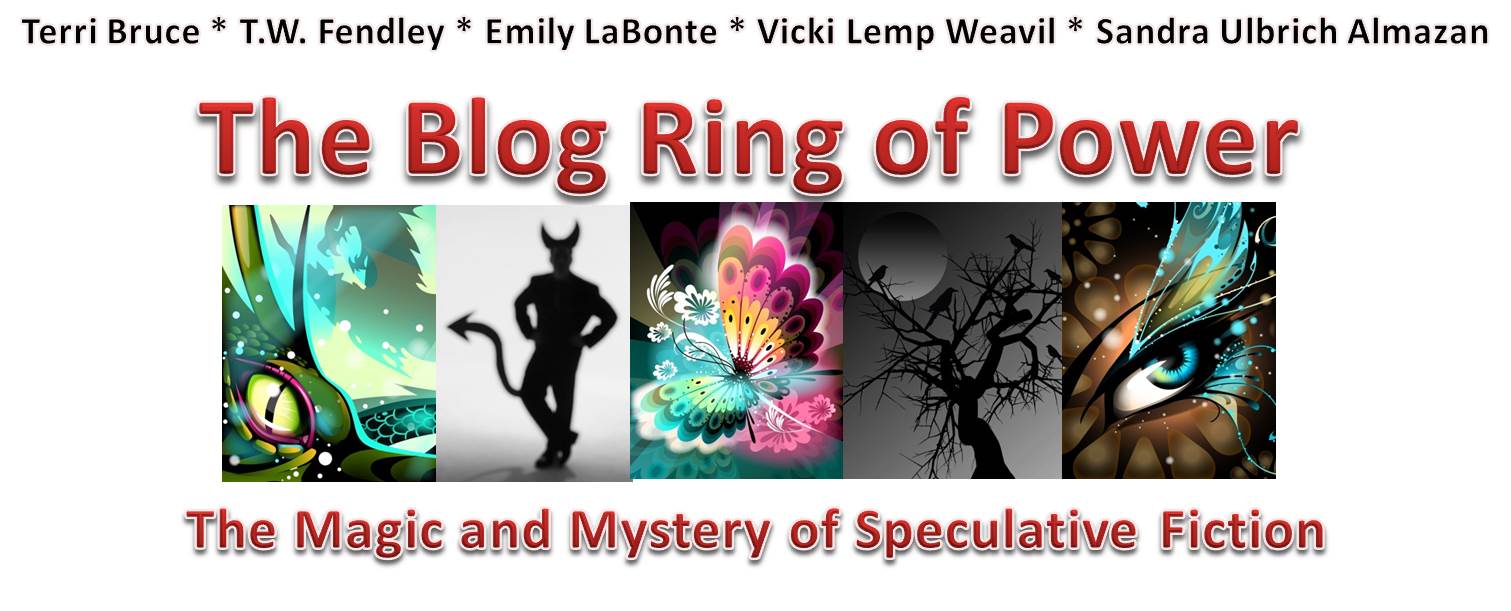 Don't forget to check out the rest of her interview:
Part 1 @ Here!
BRoP: How long have you been writing?
T.E. I can remember filling notebooks with stories from a very early age. I was probably around 9 or so when I started writing very short stories. We're talking like, 2 paragraphs. Haha. Before that though, I was definitely telling stories with sales papers, glue, and scissors. I also had a tape recorder and I'd narrate my little tales. I still have a few cassette tapes..somewhere….
BRoP: Tell us about your early works—what was the first thing you ever wrote?
T.E.: The first thing I ever wrote –don't laugh at me- was a fanfiction of me meeting the Hansons. My best friend and I were obsessed with them, and I can remember writing a 10 page story on getting stuck in the rain and randomly finding their house. Of course I sought shelter there, and Zac Hanson fell in love with me. Oh, a girl can dream.
BRoP: What books have most influenced your life?
T.E.: I'm not sure if anyone here is familiar with the books, but I used to read a lot of the "Adventures of the Northwoods" series. They were more Christian-based (which I didn't know until recently), but I was absolutely in love with the character of Erik. Kate was such a strong girl and she went on so many adventures. I longed to have those adventures, too. I also really enjoyed the Mandie Series (Again, Christian-based and I never knew!). I adored the trouble that Mandie and her friend Celia would get into..I always really wanted to have my own Celia so we could end up in places we weren't meant to be.

Aside from those two particular series, I know that R.L. Stein, Stephen King, and Anne Rice have stuck with me. The Fear Street books were always on my TBR list and I asked for Goose Bumps every birthday. A book that most certainly stands out above the rest would be IT. It's my favorite book by Stephen King and I've read it at least 12 times if not more. My older cousin let me borrow his copy for about two months when I was younger and it definitely got a lot of attention!
BRoP: What genre do you write?
T.E.: Up until recently I was convinced I wrote Paranormal, but it was much to my surprise when a fellow author (and friend) told me I write urban Fantasy. It's really funny because my Descendants Series was meant to be the test on if I was actually capable of writing Fantasy…but who knew? My vampires have been Fantasy this entire time. Genres blur for me. I don't try to label anything I write, honestly. I'd rather just say "This has love and fairies in it, so read it." Haha.
BRoP: If you couldn't be an author, what would your ideal career be?
T.E.: There are three dreams jobs I've wanted since I was very young. The first of those being a mortician. I know what you're thinking; what is wrong with you?! But it's true. I've always wanted to be that person who stands in a room with dead people. Death doesn't bother me like it does other people, so I know I could really adapt to the lifestyle of cleaning up and preparing a person for burial. I'm morbid, and that's okay. The only thing that stopped me from becoming a mortician was the fact the nearest school was 3 hours away from me and I wasn't quite ready to be that far away from home.
I also wouldn't mind being a screen writer or a radio DJ. I quite enjoy movies and music, so I could see myself being involved with either of those fields.
Blog -
Facebookpage
-
Goodreads author page
-
Twitter
-
Amazon Author Page -
Google +
From the moment we are born, we accept that a day will come when our lives must end.
That is not the case for 23 year old Ren Croswell.
Ren died a few short months before his 24th birthday and he's been stuck in the Colgrove cemetery for the past five years. He's made some friends and it's not all that bad, but there is one thing that won't settle in his restless soul; he isn't supposed to be dead.
23 year old Hannah Benoit moved to Colgrove, Kentucky in hopes of escaping her past. One can only handle being 'the girl who sees ghosts' for so long. This new town will give her a clean slate and a fresh start, but nothing can prepare her for what she's about to find.
On Halloween, the one day of the year when Ren can walk among the living, everything will change. Death promised him it would be different this year, but there's no possible way Ren could've known the true reason for his sudden and mistaken demise. Hannah will discover that her blessing of a curse was given to her for a reason, and they will both find what they've been looking for this entire time; the truth, and each other.
You won't see it coming.
----------
Transition is a New Adult Fantasy novella that will accompany a future series from T.E. Ridener, currently untitled. If you are under 18, please be aware there is strong language in this novella from time to time, and sexual situations are implied.